Progressive Dispensationalism
A Book Edited by
Ron Bigalke, Jr.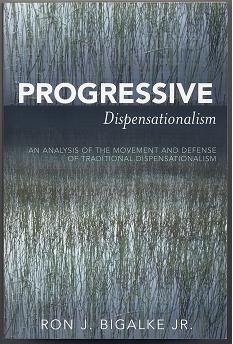 Subtitle: An Analysis of the Movement and Defense of Traditional Dispensationalism.

Publisher: University Press of America, Inc., Lanham, Maryland (1-800-462-6420)

Date: 2005

Editor: Ron J. Bigalke, Jr.
This book analyzes Progressive Dispensationalism, points out its problems and defends traditional dispensationalism. It is highly recommended.
The chapters are as follows:
Foreward by Dr. John C. Whitcomb
Introduction: "History of Dispensationalism" by Ron J. Bigalke Jr. and Thomas D. Ice
Chapter 1: "The Hermeneutics of Progressive Dispensationalism" by Robert L. Thomas
Chapter 2: "The Relationship Between Covenants and Dispensations" by Ron J. Bigalke Jr. and Mal Couch
Chapter 3: "The Abrahamic Covenant" by Ron J. Bigalke, Jr.
Chapter 4: "The Land Covenant" by Arnold G. Fruchtenbaum
Chapter 5: "The Davidic Covenant" by Thomas H. Cragoe
Chapter 6: "The New Covenant" by Stephen R. Lewis
Chapter 7: "The Kingdoms in Dispensationalism" by David Criswell
Chapter 8: "Development or Departure?" by George Zeller
Chapter 9: "Contingency of the Davidic Reign" by Ron J. Bigalke Jr. and George Gunn
Chapter 10: "The Church Dispensation and the 'Times of Refreshing' " by Mal Couch
Chapter 11: "Prophetic Postponement in Daniel 9:24-27" by Randall Price
Chapter 12: "Progressive Dispensationalism and Cessationism" by Bruce A. Baker
Chapter 13: "Does Progressive Dispensationalism Teach a Posttribulational Rapture?" by John Brumett
Chapter 14: "Interpretation Regarding the Millennium and the Eternal State" by an anonymous author
Chapter 15: "Dangers of Progressive Dispensationalism to Premillennial Theology" by Wayne House
Chapter 16: "Is Progressive Dispensationalism Really Dispensational?" by Bruce A. Baker
The book, unfortunately, is expensive. It lists for $53.00. Amazon offers it for $45.70. Perhaps through an internet search one can find it for less.
---